14th Business Summit Speakers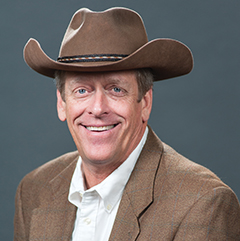 Kent Taylor
Founder, CEO and Chairman, Texas Roadhouse, Inc.

BUSINESS SUMMIT LUNCHEON KEYNOTE:
An Entrepreneurial Success Story: A Conversation with Texas Roadhouse's Kent Taylor
SPEAKER BIOGRAPHY:
Kent Taylor is the founder, CEO and Chairman of the Board of Texas Roadhouse restaurants. Mr. Taylor, who has more than 25 years of experience in the restaurant industry, opened the first Texas Roadhouse in Clarksville, Indiana, in 1993.
After several stints with ordinary restaurant companies, Kent Taylor finally launched his dream of an extraordinary restaurant concept in 1993.
His vision was clear- to create an affordable Texas-style restaurant with hearty steaks, killer ribs and ice-cold beer. But the problem was finding others to believe in that dream.
Kent pitched his idea to anyone who would give him five minutes and many more who would not give him five minutes or even the time of day. In fact, he was turned down over 100 times trying to raise money for his idea. He even chased basketball great Larry Bird in an airport trying to sell him on his idea, but Kent was too slow to catch the future Hall of Famer.
Kent finally found a cure for his ailing dream when three Elizabethtown, Kentucky, doctors agreed to provide $300,000 in start-up capital.
Using a cocktail napkin, Kent sketched out the design of the first Texas Roadhouse for his new partners and Texas Roadhouse was launched in Clarksville, Indiana, on February 17, 1993.
Kent and his new partners' goal was to have 10 restaurants in 10 years. This plan hit a snag after 3 of the first 5 restaurants failed. But Kent learned some very valuable (and expensive) lessons and vowed not to ever repeat those mistakes.
As a result, the next restaurant featured a revamped menu, much-improved recipes, updated décor, and a better-trained staff. The changes would help redefine the brand and help launch its success.
The company currently has more than 585 restaurants in 49 states and 10 countries.
Kent is still very active in the day-to-day business. In addition to his role as chairman of the board, Kent, much like the founder of Wal-Mart, Sam Walton, still approves all real estate sites. He also oversees all menu decisions and concept decisions; personally picks the songs on the jukeboxes; and selects the murals that are created for each restaurant.
A Louisville native, Mr. Taylor attended the University of North Carolina on a track scholarship, and he earned a Bachelor of Science degree.
A self-described ski bum, Kent enjoys the ski slopes in Colorado and Utah. He is also a life-long Rolling Stones fan, having attended more than 50 Rolling Stone's concerts.
Mr. Taylor is an active supporter of a number of organizations, including School Choice, Habitat for Humanity, Special Olympics Kentucky and the Kentucky Nature Conservancy. He sits on the board for Homes for Our Troops and the Leeds School of Business at the University of Colorado Boulder.
Mr. Taylor has three children, Michelle, 35; Brittany, 33; and Max, 23. In addition, he has 3 grandchildren