14th Business Summit Speakers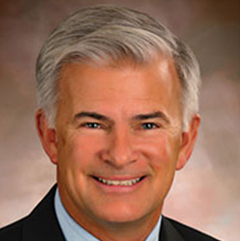 Paul Thompson
Chairman, CEO and President, LG&E and KU Energy
SPEAKER BIOGRAPHY:
Paul Thompson was named to his current position in March 2018. As chairman, CEO and president he is responsible for all matters of LG&E and KU Energy and serves as a key leader in the PPL organization. Prior to heading up the company, he held a number of leadership roles within the company. Most recently, as president and chief operating officer, he was responsible for the day-to-day activities of the company and all operations areas including generation, energy supply and analysis, electric distribution and transmission, gas distribution and storage, and customer service. Prior to coming to LG&E and KU, he worked 10 years in the oil and gas industry with Northwest Industries and Koch Industries.
Thompson joined LG&E in 1991 as director of Business Development and subsequently held several upper-management positions before being promoted to senior vice president of Energy Services in 1999. Thompson has a bachelor's degree in mechanical engineering from the Massachusetts Institute of Technology (MIT) and a master's degree in business administration in finance and accounting from the University of Chicago. He also completed the Executive Program on Leading Corporate Transformation at the E.ON Academy Harvard University. Thompson is currently a board member of Electric Energy Inc. and Ohio Valley Electric Corporation, and is on the advisory board for the University of Kentucky Center for Applied Energy Research. He was previously a board member and chairman of the board of the FutureGen Industrial Alliance.
In civic roles, Thompson currently serves as the chair-elect for the Kentucky Chamber of Commerce, is a board member of TreesLouisville and Fund for the Arts, and was the 2017 Fund for the Arts campaign chair. He is a past chairman of the Louisville Free Public Library board and currently serves as the advocacy committee chair. Thompson also is a past chair of the Louisville Downtown Development Corporation, a past board member for Greater Louisville Inc. and a Leadership Louisville graduate.