14th Business Summit Speakers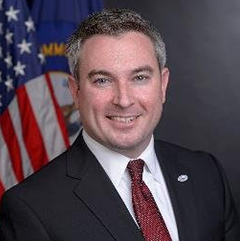 The Honorable Ryan Quarles
Agriculture Commissioner, Commonwealth of Kentucky
SESSION TITLE:
HEMP: What Will it Mean to Kentucky's Economy?
SPEAKER BIOGRAPHY:
Ryan Quarles was elected Kentucky's Commissioner of Agriculture in 2015. Under his leadership, the Kentucky Department of Agriculture (KDA) started several new programs, including initiatives to combat hunger and connect Kentucky farmers to new markets. As a result of his Kentucky Hunger Initiative, Kentucky now has the strongest food donation immunity law in the country, and more Kentuckians are talking about the chronic problem of food insecurity than ever before. His leadership on international trade issues saw the resumption of live equine exports to China, a decision that benefits all sectors of Kentucky's agricultural economy from horse breeders to feed producers.
Under his direction, the KDA continues to look for more opportunities for Kentucky farmers to grow domestic and international markets. While Commissioner, he has also supported the expansion of Kentucky's diverse agricultural portfolio to include industrial hemp, kenaf, and hops. On the national level, Commissioner Quarles serves as Secretary-Treasurer of the National Association of State Departments of Agriculture (NASDA) and as Chairman of the Republican Agriculture Commissioners Committee (RACC).
Prior to serving as Commissioner of Agriculture, Quarles represented Scott, Owen, and Fayette counties for three terms in the General Assembly, where he was an outspoken advocate for agricultural issues affecting Kentucky families. In 2006, Quarles graduated from the University of Kentucky with three undergraduate majors and two graduate degrees. In 2008, he was awarded a full scholarship to Harvard University, where he studied higher education, government, and law. After graduating with a Master's degree in higher education, he returned home to finish his last year of law school at the University of Kentucky. Ryan grew up on his family's farm in Scott County, coming from a family that has lived in central Kentucky for over 200 years. At the age of 34, Commissioner Quarles is the youngest statewide elected official in the country.