14th Business Summit Speakers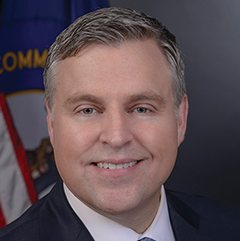 Secretary John Tilley
Kentucky Justice and Public Safety Cabinet, Commonwealth of Kentucky
SESSION TITLE:
Opioid, Drug, Substance Abuse in the Workplace: What is it Costing Kentucky Business?
SPEAKER BIOGRAPHY:
As head of the Kentucky Justice and Public Safety Cabinet, Secretary John Tilley oversees more than 7,000 employees and five major departments, including Corrections, Criminal Justice Training, Public Advocacy, Juvenile Justice, and the Kentucky State Police. The office also oversees the State Medical Examiner and the Office of Drug Control Policy. Over the past two years, he has led a transformative overhaul of the Department of Juvenile Justice to modernize policy, lower costs, and achieve better outcomes for both children and public safety. He also spearheaded a sweeping redesign of the Department of Corrections Reentry Division to focus resources on training inmates and connecting them with sustainable employment, housing and transportation. In addition, Secretary Tilley headed up the 23-member Criminal Justice Policy Assessment Council, a bipartisan panel focused on lowering recidivism and building a fairer system of justice. The council's work led to successful reforms that reduced barriers to reentry and boosted job training for inmates.
Prior to his appointment, Secretary Tilley served well into a fifth term in the Kentucky House of Representatives, chairing the House Judiciary Committee from 2009 to 2015. During his tenure, he sponsored landmark legislation to strengthen public safety, while controlling corrections costs and increasing drug treatment. He also sponsored or championed sweeping legislation on opioids and pill mills, dating violence, stalking and sexual assault, synthetic drugs, juvenile justice and internet crimes against children. Secretary Tilley is a former chair of the National Association of State Legislature's Criminal Law and Justice Committee. He has worked both nationally and internationally in the areas of criminal justice reform, drug policy, and juvenile justice. Secretary Tilley also serves on various boards and committees, notably on the Council of State Governments (CSG) Executive Committee and CSG's Justice Center Leadership Council and Executive Committee.