The Kentucky Chamber knows we are stronger together against this common enemy as we mount our restart. The Chamber will provide education, guidance, policy recommendations, connect job seekers with employers and recommend best practices to prepare business to restart our economy. The Chamber will call on key industry leaders to guide our work to give Kentucky every opportunity to unleash our potential.
Kentucky businesses are strong and our people are resilient. It's time to safely prepare our Restart.
---
The Impact of COVID-19 on Businesses and What Comes Next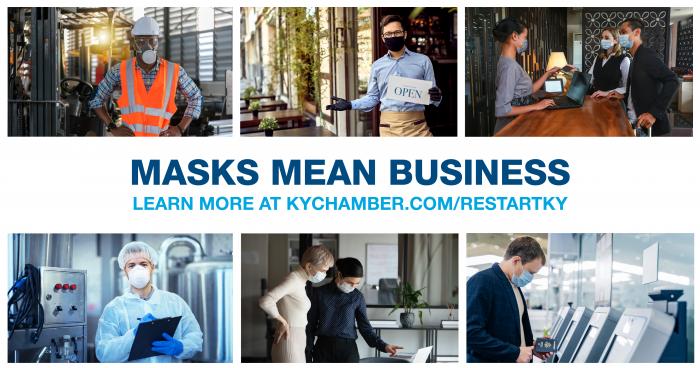 The business community is supportive of wearing masks as a way to keep the economy going and keep our workforce and fellow Kentuckians safe.
Kentucky's Phased Reopening Schedule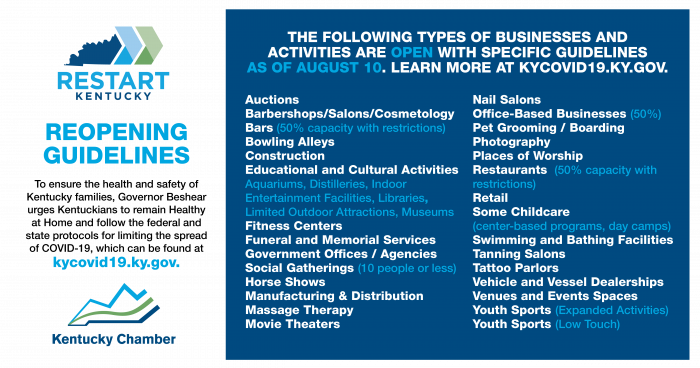 Minimum requirements all employers are expected to follow include health and temperature screenings, including employees, may self-administer a temperature screening at home.
In addition to minimum requirements that all business must follow, sector-specific guidelines were released for:
Barbershops/Cosmetology/Hair Salons
Educational and Cultural Activities Aquariums - Distilleries - Indoor Entertainment Facilities - Libraries - Limited Outdoor Attractions - Museums
Some Childcare (center-based programs, day camps)
Swimming and Bathing Facilities
Vehicle and Vessel Dealerships
Youth Sports (Expanded Activities)
---
LATEST WEBINAR: COVID-19 and Unemployment, How Kentucky Compares
Personal Protective Equipment
The Kentucky Chamber is now offering disposable masks, gloves, alcohol wipes, and non-touch thermometers. These items ship from our offices in Frankfort and are currently in stock.
Order PPE from the Kentucky Chamber
#TeamKentucky is working to prioritize requests for hand sanitizer with distillers and other companies that are rushing to obtain and produce the necessary products.
Please click the button below to fill out the hand sanitizer request form so they can process and prioritize your request.
*This link below is only a central repository for requests. Submission of a request does not guarantee you will receive product. Please take all necessary steps to adequately source your needs directly.
---