The Kentucky Chamber knows we are stronger together against this common enemy as we mount our restart. The Chamber will provide education, guidance, policy recommendations, connect job seekers with employers and recommend best practices to prepare business to restart our economy. The Chamber will call on key industry leaders to guide our work to give Kentucky every opportunity to unleash our potential.
Kentucky businesses are strong and our people are resilient. It's time to safely prepare our Restart.
---
The Impact of COVID-19 on Businesses and What Comes Next
Kentucky's Phased Reopening Schedule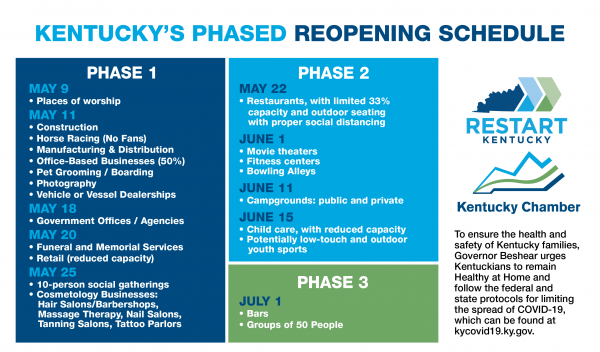 Minimum requirements all employers are expected to follow starting Monday, May 11 include health and temperature screenings, including employees, may self-administer a temperature screening at home.
In addition to minimum requirements that all business must follow, sector-specific guidelines were released for:
May 9, 2020:
May 11, 2020:
May 18, 2020:
May 20, 2020:
May 22, 2020:
May 25, 2020:
Cosmetology Businesses

Hair Salons/Barbershops

Massage Therapy

Nail Salons

Tanning Salons

Tattoo Parlors
June 1, 2020:
Bowling Alleys

Fitness Centers

Movie Theaters
June 11, 2020:
June 15, 2020:
Some Childcare

Youth Sports (low touch and outdoors)
July 1, 2020:
---
LATEST WEBINAR: The Impact of COVID-19 on Access to Child Care in Kentucky