Annual Meeting Dinner - Keynote - Calipari
Coach John Calipari | University of Kentucky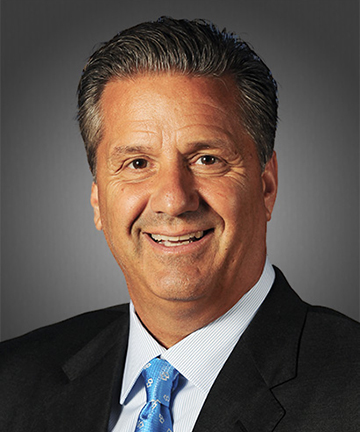 A "players-first" coach with a penchant for helping people reach their dreams, John Calipari, a Naismith Memorial Basketball Hall of Famer, has guided six teams to the Final Four, led one to a national championship and helped 54 players earn selection in the NBA Draft during his 30-year college coaching career.
Calipari guided Kentucky to its eighth national championship and his first national title in 2012. In becoming only the second coach in NCAA history to lead three different schools to the Final Four, he has racked up more than 800 on-court victories, 21 NCAA Tournament on-court appearances, six Final Fours and numerous national coach of the year honors.
From UMass to Memphis and now Kentucky, Calipari's career has been successful throughout, but his most recent run in Lexington has been the best stretch of his career. During Calipari's first 13 seasons at UK, he has led all coaches in NCAA Tournament wins (31), Final Fours (four), Elite Eights (seven) and Sweet 16s (eight).
In 2015, Coach Cal led college basketball's first ever 38-0 team, and became one of just three coaches to make four Final Fours in a five-year span. At the end of the season, Calipari became the 96th coach to join the Naismith Memorial Basketball Hall of Fame.
While building a program out of obscurity at UMass, laying the foundation at Memphis and restoring luster at the sport's greatest program at Kentucky, he totaled the second-most wins in NCAA history in the first 20 years of a college coaching career.
Quite honestly, though, Calipari's on-court success overshadows a much more significant picture.

In his goal to lead a players-first program, he has helped more than 50 young men realize their dreams and reach the NBA level with 54 players earning NBA Draft selections, including a record five first-round draft picks in 2010. Two years later, six Wildcats heard their names called at the 2012 draft, the most in the two-round draft era. UK, with Calipari's help, would tie those six picks again in 2015, including a record-tying four lottery selections. His four No. 1 overall picks are more than any other coach, and he has had 43 players drafted during his first 12 years at Kentucky, including 32 first-round picks, more than the entire Big Ten combined in that time span.

Calipari's players have entered the league NBA-ready. His players have garnered 28 All-Star selections -- all since 2010 -- with Anthony Davis winning the game's MVP honor in 2017. Derrick Rose was named NBA MVP in 2011. Six of his players have been tabbed All-NBA (11 times), three have been named NBA Rookie of the Year and 15 players from Calipari's first 12 teams at Kentucky have made the NBA All-Rookie teams. He is the only coach in history to have a player win each of the NBA's major honors: MVP, Rookie of the Year, Most Improved Player and Sixth Man of the Year.

Much like he did at UMass, where his players graduated at nearly 80%, Calipari has stressed academics. Seventeen of his last 20 seniors at Memphis earned their bachelor's degrees, and all 23 players at UK who were eligible to graduate by the end of their senior years walked away with a diploma in hand, including five players who earned their degree in just three years. Calipari's teams routinely have posted a combined team grade-point average of 3.0 or better.

Calipari has raised millions of dollars to help the lives of those in need in the Commonwealth and beyond. He has had a particular passion to assist those impacted by natural disasters. For instance, in 2010, he used a telethon to raise more than $1 million for victims of the devastating earthquake in Haiti. He followed that up with telethons in 2012, raising $1 million for victims of Superstorm Sandy, in 2017 for victims of Hurricane Harvey, and played a leading role in the "Kentucky United" efforts that generated more than $5 million for victims of devastating tornadoes in Western Kentucky in 2021.

Calipari launched his foundation in 2012, and since then the foundation has worked with several key partners and donated more than $1.5 million, a figure that does not include matching funds that have been contributed from individuals and corporations. In 2013, Calipari initiated hosting an annual alumni weekend around his basketball fantasy experience with the intent to raise money for charity. After generating $350,000 for selected organizations and charities during the inaugural game, the weekend has generated millions of dollars for charity since its inception.

In 2019, when federal workers were without pay due to a government shutdown, he, his wife and his foundation assisted workers with financial help and grocery gift cards. He and his wife, Ellen, teamed up with Fayette County Public Schools to help families in need during the COVID-19 pandemic.

His latest efforts include spearheading the creation of the John McLendon Minority Leadership Initiative, a nationwide coach-driven initiative to provide minorities a jump-start to their careers through practical experiences, opportunities to build their network and instilling the values of John McLendon: integrity, education, leadership and mentorship. Participants in the initiative will be known as MLI Future Leaders.

In 2017, Coach Cal was named the head coach of the 2017 USA Basketball Men's U19 World Cup Team, which finished third at the 2017 FIBA U19 World Cup in Cairo.

Author of five books, including the New York Times Best Seller "Players First: Coaching from the Inside Out," Calipari is a master of communication and maximizing talent. He lives by the motto that "it's never a matter of how far you have fallen, but instead it's about how high you bounce back."