Kentucky Chamber of Commerce Executives (KCCE)

Kentucky Chamber of Commerce Executives (KCCE) is a partner organization with the Kentucky Chamber that provides local chamber executives opportunities for professional development, organizational excellence, and grassroots advocacy.
---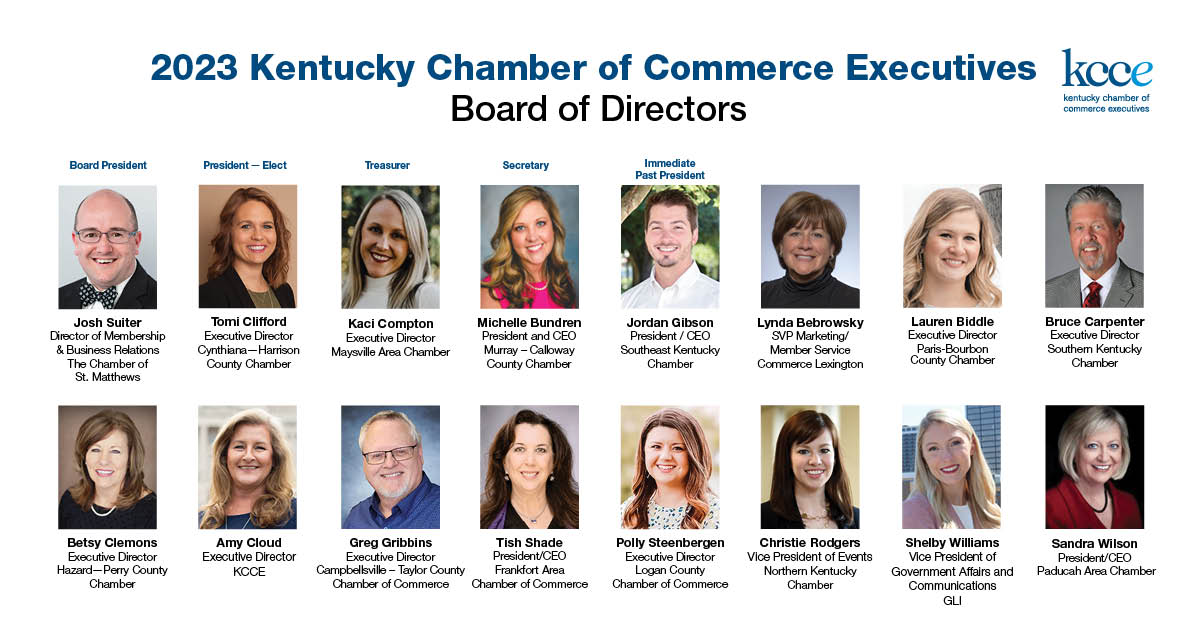 ---
What Does KCCE Membership Provide Local Chambers?
Over 85 chambers of commerce across Kentucky are members of KCCE.
Find out the benefits of membership below!

Opportunities for Professional Development and Organizational Excellence
Conferences and Workshops
New Professional Bootcamp
Scholarships for KCCE conferences, ACCE Convention, Institute for Organization Management, and More
Certification and Awards
Kentucky Certified Chamber Program Board Development (volunteer training)
Peer Reviews
International Business Trips
Involvement in the Chamber's Grassroots Advocacy Network
Maximizes the resources and strengths of local chambers on policy matters, issues relating to business growth, economic development, and chamber operations.
Promotes an increased dialogue between KCCE members and Kentucky Chamber staff on policy issues
Encourages engagement in Kentucky Chamber policy events including Chamber Day, Legislative Preview and policy council meetings
Focuses on policy education for local chambers and members
Engages members in the Frankfort Inside Out newsletter and legislative update meetings during the General Assembly
Promotes an active partnership with the U.S. Chamber of Commerce
Exclusive Access to Organizational Consulting Services
Strategic Planning
Executive Search
Budget Planning
Organization Planning
Meeting Facilitation
Operational Assistance
CEO Transition Planning
One-on-One Consulting
Coaching/Mentoring
Member Discount Programs
Do you want to offer your membership cost savings benefits? Are you limited on time or resources to manage these programs alone? As a member of the Kentucky Chamber you can offer your members ways to save on everyday business expenses like health insurance, worker's comp, office supplies and more.
Up to Date Information through Communications and Social Media Platforms
---

---
464 Chenault Road
Frankfort, KY 40601