Kentucky Recovery in the Workplace Conference - Keynote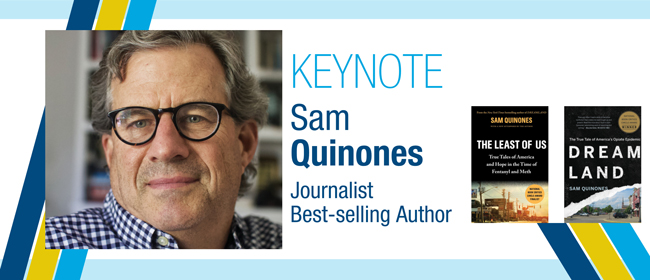 New York Times bestselling author of Dreamland. His newest book The Least of Us is a searing follow-up
that explores the terrifying next stages of the opioid epidemic and the quiet yet ardent stories of community repair.
Keynote | America and Hope in the Time of Fentanyl and Meth: One Reporter's Stories
Sam Quinones, Journalist, Best-selling Author
Based on his latest book, THE LEAST OF US, Sam Quinones will discuss the latest evolution in our addiction epidemic, with synthetic drugs made in Mexico that are more prevalent, potent, deadly (fentanyl) or mind-mangling (methamphetamine) than any other drugs we've seen on U.S. streets. He talks too about why he thinks this is a crucial time for towns with monies coming from court settlements. How to use those monies and what communities will look like when they're spent are now key questions to answer.
---
Sam Quinones (pronounced Kin-YOH-Ness) is a Los Angeles-based freelance journalist, a reporter for 35 years, and author of four acclaimed books of narrative nonfiction. He is a veteran reporter on immigration, gangs, drug trafficking, the border.
He is formerly a reporter with the L.A. Times, where he worked for 10 years. Before that, he made a living as a freelance writer residing in Mexico for a decade (1994-2004).
His latest book, released in November, 2021, is The Least of Us: True Tales of America and Hope in the Time of Fentanyl and Meth. (The book is released in paperback in November, 2022.)
In The Least of Us, Quinones chronicles the emergence of a drug-trafficking world producing massive supplies of synthetic drugs (fentanyl and meth) cheaper and deadlier than ever, marketing to the population of addicts created by the nation's opioid epidemic, as the backdrop to tales of Americans' quiet attempts to recover community through simple acts of helping the vulnerable.
With The Least of Us, Quinones broke the story of how the methamphetamine now produced in Mexico has covered the U.S. and is creating widespread and rapid-onset symptoms of schizophrenia, becoming in the process a major driver in the country's the homeless problem.
In January 2022, The Least of Us was nominated for a National Book Critics Circle (NBCC) award for Best Nonfiction Book of 2021.
The Least of Us follows his landmark Dreamland: The True Tale of America's Opiate Epidemic (Bloomsbury, 2015), which ignited awareness of the epidemic that has cost the United States hundreds of thousands of lives and become deadliest drug scourge in the nation's history.
Dreamland won a National Book Critics Circle award for the Best Nonfiction Book of 2015. It was also selected as one of the Best Books of 2015 by Amazon.com, the Daily Beast, Buzzfeed, Seattle Times, Boston Globe, St. Louis Post-Dispatch, Entertainment Weekly, Audible, and in the Wall Street Journal and Bloomberg Business by Nobel economics laureate, Prof. Angus Deaton, of Princeton University.
In 2021, GQ Magazine selected Dreamland as one of the "50 Best Books of Literary Journalism of the 21st Century"
Dreamland was selected as one the Best 10 True-Crime Books of all time based on lists, surveys, and ratings of more than 90 million Goodread.com readers. In 2019, Slate.com selected Dreamland as one of the 50 best nonfiction books of the last 25 years.
For Dreamland, Quinones has testified before the U.S. Senate's Health Committee, numerous professional conferences of judges, doctors, librarians, hospital administrators and at more than two-dozen town hall meetings in small towns across the country.
A Young Adult version of Dreamland – for 7th through 12th graders -- was released in July of 2019.
His first two books grew from his 10 years living and working as a freelance writer in Mexico (1994-2004).

True Tales From Another Mexico: The Lynch Mob, the Popsicle Kings, Chalino and the Bronx was released in 2001. It is a cult classic of a book from Mexico's vital margins – stories of drag queens and Oaxacan Indian basketball players, popsicle makers and telenovela stars, migrants, farm workers, a narcosaint, a slain drug balladeer, a slum boss, and a doomed tough guy.

In 2007, he came out with Antonio's Gun and Delfino's Dream: True Tales of Mexican Migration. In it, Quinones narrates the saga of the Henry Ford of Velvet Painting, and of how an opera scene emerged in Tijuana, and how a Zacatecan taco empire formed in Chicago. He tells the tale of the Tomato King, of a high-school soccer season in Kansas, and of Mexican corruption in a small L.A. County town. Threading through the book are three tales of Delfino Juarez, a modern Mexican Huck Finn. Quinones ends the collection in a chapter called "Leaving Mexico" with his harrowing tangle with the Narco-Mennonites of Chihuahua.
Dagoberto Gilb, reviewing Antonio's Gun in the San Francisco Chronicle, called him "the most original writer on Mexico and the border."

Contact him at www.samquinones.com or [email protected].