Tell your legislators to pass House Bill 561: Prioritize Investment in Kentucky's Transportation Systems!
We must act now to fix Kentucky's transportation systems. If we do nothing, the amount of money needed for roads and bridges will keep increasing, traffic will get worse, and our roads will continue to decline in safety. Investing in infrastructure is an investment in our economy.
House Bill 561 will:
Bring in much-needed transportation funding to maintain and build roads and bridges across the state
Increase city and county road funding
Establish a fee for electric vehicles to keep up with changes in technology
ALL OF KENTUCKY'S SURROUNDING STATES HAVE PRIORITIZED INVESTMENT IN TRANSPORTATION. THE TIME FOR KENTUCKY TO ACT IS NOW!
In the race for better roads, Kentucky is losing. Stop letting other states pass us by!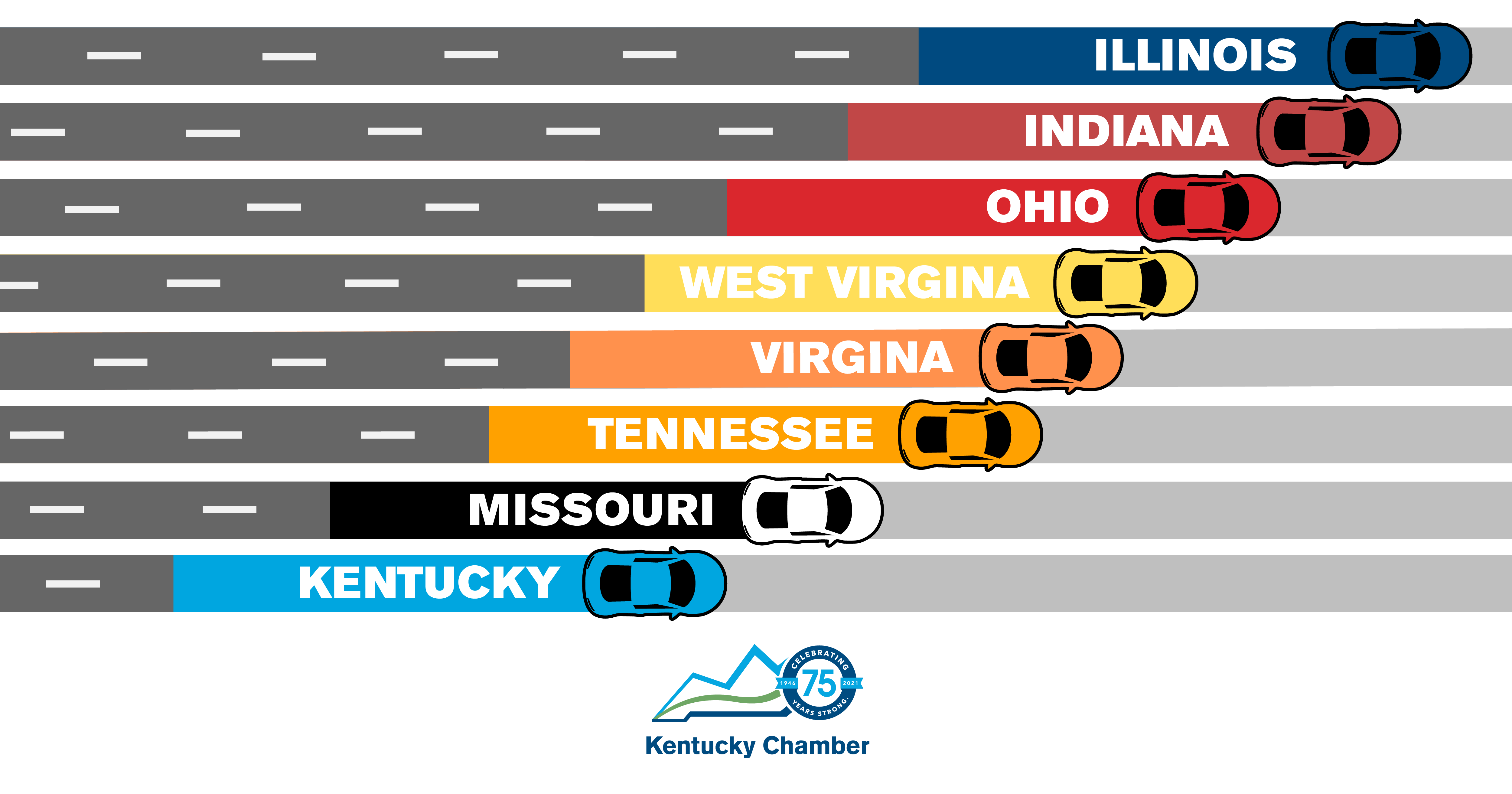 Kentucky is in a prime spot — within a day's drive of two-thirds of the nation's population.
Annual cost to motorists of road congestion, vehicle operating costs due to poor roads and inadequate safety features: $4 billion a year.
Kentucky roads were given a D grade due to congestion and delays, pavement condition, needed improvements, and insufficient funding.
Kentucky sits at the center of a 34-state distribution area in the eastern U.S., facilitating distribution of goods and materials to a massive industrial and consumer market.
More than 25% of Kentucky's economy is made up of industries highly dependent on transportation compared to 19% nationally.
1,157 (8%) of Kentucky's bridges are classified as structurally deficient; another 3,133 bridges (22%) are classified as functionally obsolete.
Learn more from the Kentucky Infrastructure Coalition's fact sheet
---
Watch Business Leaders Speak on Infrastructure Needs