OSHA Fall Protection Competent Person Certification
 

August 16-17, 2023 | Holiday Inn Louisville East - Hurstbourne
---
$695/Kentucky Chamber Member
$795/Non-member
Special Offer: Send 1 and receive the 2nd HALF OFF!
Contact Lori Jo Goff at 502-848-8727 or [email protected] to take advantage of special offer.
---
The actual term Competent Person is used in many OSHA standards, documents and directives, as well as several proprietary and private standards and guidelines.
Though the actual responsibilities of a Competent Person in code varies as they pertain to fall protection, generally, such persons, who often act on the employer's behalf, must possess the ability to anticipate, protect and prevent injuries and illnesses when applied to actual and specific work performed by themselves and other employees.
In many OSHA standards, competent person too must be able to train employees. It is important to understand that when a regulation mandates the use of a competent person, it is an employer's obligation to determine the ability of such individuals and designate them accordingly by their knowledge of standards, experience at the task at hand and ability to take corrective action.
Keep in mind that the authority to take corrective action can vary from having the knowledge to make something safe and hazard free to simply not allowing work to be performed, hence preventing employee exposure.
OSHA's Construction Definition of a Competent Person - 29 CFR 1926.32(f):  One who is capable of. identifying existing and predictable hazards in the surroundings or working conditions. which are unsanitary, hazardous, or dangerous to employees, and who has. authorization to take prompt corrective measures to eliminate them.
OSHA's General Industry Definition of a Competent Person – 20 CFR 1910.140(b):  A person who is capable of identifying existing and predictable hazards in any personal fall protection system or any component of it, as well as in their application and uses with related equipment and who has authorization to take prompt, corrective action to eliminate the identified hazards.
---
Duty to Have Fall Protection – 29 CFR 1926.501 – OSHA's most cited citation!
In FY 2020, the most frequently cited OSHA standards was: Fall Protection—General Requirements (§1926.501): 5,424 violations
This 16-Hour course in OSHA Fall Protection Competent Person Certification is designed for both Construction and General Industry companies and workers. Anyone responsible for determining or fulfilling the role of a competent person relative to Fall Protection would benefit from this course, along with safety managers and workers exposed to heights and using fall protection equipment safely. The course will ensure the students ability to identify fall hazards, design fall hazard and falling object hazard solutions, as well as many other factors that would ensure workers safety relative to Fall Protection.
This intensive 2-day course includes the proper donning, care, maintenance and inspection of equipment, along with understanding the different concepts in Fall Protection. There will be classroom, hands-on instruction, exercises, and evaluation of participants in the areas of:
Regulations pertaining to Fall Protection
Responsibilities of a Competent Person
Clarifying the terms Fall Protection, Positioning, Restraint, Fall Arrest
Identification, selection, care, storage, and inspection of equipment
Conventional and non-conventional Fall Protection Systems
Hierarchy of Fall Protection

Fall hazard elimination and control methods
Passive vs. active fall protection systems

Calculating fall distances
Anchorage requirements
Protection from falling hazards
Rescue solutions and plans
Fall Protection plans and training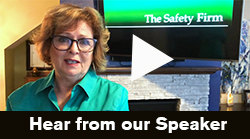 ---
Course meets the criteria for the following standards:
OSHA 29 CFR 1926.501 – Duty to have Fall Protection
OSHA 29 CFR 1926 Subpart M – Fall Protection
OSHA 29 CFR 1910.140 – Personal Fall Protection Systems
ANSI Z359 – Fall Protection and Restraint Standards
Participants will receive upon completion
Certificate of Completion of OSHA Fall Protection Competent Person Certification from The Safety Firm, LLC.
---
Anyone in the role (or will be) of Competent Person for Fall Protection
Safety Professionals
Owners
Managers
Supervisors of those working at heights
Safety Trainers
Workers exposed to fall hazards
Fall protection equipment inspectors
Safety Committee personnel
Safety Lead personnel
---